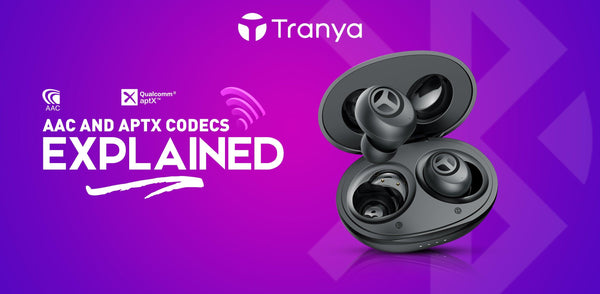 AAC and aptX Bluetooth Codecs in Wireless Earbuds Explained
As many phone companies continue to kill off the phone jack, Bluetooth has become more common. Bluetooth has not only offered us freedom from the traditional wired systems but has also changed the way we use our audio gadgets. With this advancement, Bluetooth earbuds can be used from active sports to listening to music to relax. With the introduction of the more advanced versions of Bluetooth, true wireless earbuds have become an essential listening gear for many listeners. Let it be working from home or working out, these wireless earbuds give you an amazing listening experience. These true wireless earbuds not only look different from the wired earphones, but also work in a very different way. They make use of Bluetooth to transfer the audio from the device to your ears via earbuds.
How does Bluetooth work?
Bluetooth works by the using the radio waves instead of wires or cables to connect your device to the other device. It is a short-range wireless communication technology found in many of the products we use every day – such as our headsets, laptops, smartphones, or speakers.
A product which has Bluetooth technology, such as wireless earbuds, are equipped which a tiny computer ship that connects it to other devices like smartphones, laptops, etc. For the Bluetooth to work, both the devices need to be near to each other so that they can connect with one another.
What is a CODEC?
A codec is a short for compression/decompression. It is a complex algorithm which processes audio data and makes it smaller so that it is easier to send it over from the phone to the headphones. To understand how the Bluetooth works, knowledge of Bluetooth codecs is necessary. Bluetooth codecs are of great importance as these codecs can improve audio quality, reduce the latency, and contribute to energy efficiency.
When it comes to wireless audio, a codec is the method of encoding and decoding digital data that is sent wirelessly between the two devices. Different codecs use slightly different data formats to send audio, use different standards to connect between compatible devices, and can also vary in their compression technologies to balance sound quality with respect to the packaging size. It transmits a hi-fi signal at the minimum of specified bitrate, resulting in the least amount of bandwidth and space required for playback and storage, respectively.
A high bitrate means that the sound quality is better, and the compression is worse, while a lower bitrate means that the compression is better, and the sound quality is worse. Different Bluetooth codecs can result in different audio quality, connection quality and latency. All the Bluetooth devices support the Low Complexity Sub-Band Coding (SBC) codec by default.
Types of CODECS
You must have heard about some of the popular codecs like SBC, AAC, aptX, and MP3. Using a codec is very necessary as the lesser data Bluetooth needs to transmit, the more reliable the connection is. We will be discussing the most advanced AAC and aptX codecs below.

1. Advanced Audio Coding (AAC)
Advanced Audio Coding (AAC) is a standard for audio coding with lossy digital audio compression. It is the successor of the MP3 format and it achieves higher sound quality than the previous MP3 and that too at the same bitrate. It is preferred for iPhone, as it is a codec that Android can not handle efficiently. It is the latest audio codec designed for phone users that want freedom from the tangling wires. It is ideal for those who love gaming or who love to binge-watch on shows and movies.

2. aptX Bluetooth Technology
The word "apt" stands for Audio Processing Technology. aptX bluetooth audio technology is designed to provide a wireless Bluetooth alternative to the traditional wired systems that can work seamlessly across all the applications let it be listening to the music, watching a video or playing a game. aptX combines high quality audio, low-bitrate audio transmission, low latency, and scalability to create an amazing seamless wireless listening experience. aptX supports all the major platforms like Android, Windows 10 and Mac OS.
It is great for people who love playing games as it keeps audio in sync to the media and reduces the audio or lip synchronization issues. It has an adaptive bitrate which means that the bitrate will adjust to provide you with a seamless glitch-free audio regardless of where you are. Whatever your device is or wherever you are, you can enjoy high quality Bluetooth wireless audio with aptX codec.
Tranya T10 - Bluetooth 5.0, AAC and aptX Compatible
With Tranya T10 Wireless Bluetooth Earbuds, you can do all your chores while listening to music, work out without any problem and take a phone call without having to sit with your phone. It provides great freedom. Tranya T10 earbuds adopt the most advanced Bluetooth 5.0 technology which ensures fast transmission and stable connection. The latest Bluetooth 5.0 technology also provides you with Hi-Fi sound and lower power consumption. The speed and range are also improved in Bluetooth 5.0 which allows these earbuds to be used over greater distances. The aptX and AAC are two Bluetooth codecs designed to deliver high sound quality. The new T10 Wireless earbuds utilize the advanced aptX and AAC audio coding technology, which provides a high quality of sound over Bluetooth. T10 earbuds are the right pair for you to multi-task. If you are a game lover, these earbuds are just the right choice for you as these earbuds are aptX and AAC compatible which reduces the latency, making the audio glitch-free and synchronize correctly.
Product Features
Advanced Qualcomm Bluetooth 5.0 Chipset

aptX and AAC compatible

cVc 8.0 Noise Cancellation

12mm Graphene Driver

7 Hours Playtime Per Full Charge

28 Hours Total Playtime with Charging Case

Touch Control

Quick Pairing

Comfortable Fit

High-Fidelity Stereo Sound

Multiple Modes

IPX7 Waterproof
Bottomline
True wireless earbuds are ground-breaking invention in the world of audio and has become an essential gear for many of us. Now that you have learned about how the Bluetooth works, you can explore true wireless Bluetooth earbuds of your choice for your playlist. There are plenty of reasons for choosing wireless earbuds over the wired earphones. They are great for gym, running/jogging, working, commuting, or relaxing while tuning in to your playlist. Tranya earbuds stay firmly in your ears and gives you the freedom to move freely while having a phone call or while working out. Get ready for the best listening experience of your life in a very reasonable price with Tranya True Wireless Bluetooth T10 Earbuds.