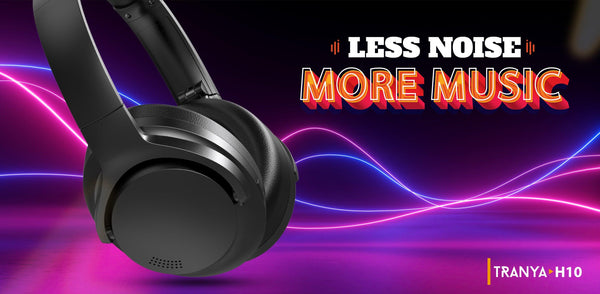 Enjoy Noise Free Music with Tranya H10 Wireless Headphones
Our lives spin around technology and we can easily say that it has changed our lives and habits as well. If we look back in the past we mostly see people with a cup of coffee and books in a subway but now mostly you will see people with headphones over their ears because they like to listen to music. In the past, we used to think that wired headphones were the biggest change made, little did we know that we would get rid of these wires too. Accept it or not, but at times we used to hate those wires because who really likes to untangle wires every single time they want to listen to something, it really used to spoil the mood. Also, life is so busy these days and for people who are always in a rush and on-the-go lifestyle prefer things that are comfortable and easy.
Well, now whether you are playing sports, doing workout or just walking, you do not need to handle cable wires. In the previous bluetooth devices, sound quality was not too good and the range was also low but now wireless technologies no longer mean poor quality or poor audio if we talk about wireless headphones. These headphones have many advanced features that provide great sound, good battery timings, light-weight design as well as comfort.
It's not an easy task to find your type, either for a cell phone, laptop or headphones. Choosing the right pair of headphones is as difficult as choosing a right life partner because you have to spend your days with it. Ideally, you need something that will give you your money's worth in terms of sound, features and utilization.
New Tranya H10 Active Noise Cancelling Wireless Headphones

Tranya has introduced a latest set of headphones "H10 Hybrid Active Noise Cancelling Wireless Headphones" that can be the perfect solution for all your needs. These headphones blend incredible sound and elite noise cancellation into a luxe with super comfortable and light-weight, foldable design. Below are some of the amazing features of these headphones which will make you fall in love with these.
Bluetooth 5.0 technology: It's important to check what version of bluetooth is implemented to figure out what type of connectivity level you will be having. Bluetooth 5.0 is relatively a new technology in headphones that has not been implemented in most of the headphones but Tranya's H10 headphones has 5.0 bluetooth technology that leads to low power usage and the 5.0 version has a strong connectivity level with so much increased connectivity distance. With better connection quality, you will be able to experience music the way it was meant to be heard.
Digital hybrid active noise cancellation: Active noise cancellation simply means it will cancel background noises and it's the most powerful cancellation form. H10 is equipped with the advanced digital hybrid noise cancellation to let you enjoy the sound while the advanced aptX codecs will let you experience the smallest and finest details. Simply switch to the ambient mode to listen to music without any background distraction as this powerful combination of technologies will have a direct impact on your superior sound quality for being crystal clear, powerful bass and high definition.
4 Microphone system: The more the microphones in the headphones, the better the noise pickup. H10 is equipped with 4 microphones so you can experience some amazing voice because it will block most of the noises.
High Quality Audio: No doubt headphones have advanced itself in terms of audio quality. And our H10 headphone is equipped with 5.0 bluetooth version that means that you do not have to sacrifice on the audio and with the help of ANC, you will not be able to listen to the background noises.
Battery life: Oh I am loving it except the battery--We often get to hear this when people don't see the smallest details and just buy the headset. But don't worry because H10 headphones have a long battery life of up to 24 hours. You will get the juice full day with only 60 minutes of charging. We guess that this is all you need in life, having such an incredible headphone with amazing battery timings.
Foldable and light-weight design: Sometimes people perceive headphones as a gigantic thing for travelling because we all need small things that can be carried easily. With the foldable, adjustable and light-weight design, H10 can be carried anywhere. Swivel folding ear cups makes it easy for you to travel because you can take them in your suitcase or hand bag. Also, if you like to spend on time netflix but you think it's impossible to wear headphones for long hours then you are wrong. As these H10 headphones are light in weight, you can think of watching a 3 hours movie easily.
Comfortable durable material: You cannot compromise on the comfort level and H10 headphones are designed with a number of ergonomic considerations in mind to allow for a comfortable listening experience for hours. The earpads are cushioned with high quality synthetic protein leather for extremely comfortable and snug fit over the ears.
Bottomline
After the successful releases of a number of wireless earbuds, Tranya has now introduced its latest H10 wireless headphones, which doesn't compromise on any feature. Most of the headphones with the same features will cost you a fortune. But with Tranya H10 headphones, you will be getting all the features you are looking for at a reasonable price of $159. So what are you waiting for? Order yours now.