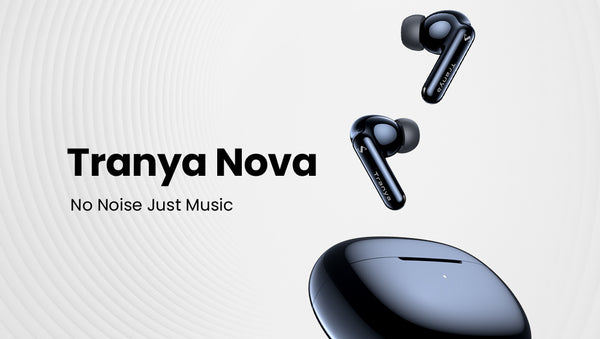 Here's Why TRANYA Nova Should Be Your Next Earbud
As Tranya unveiled its latest Nova earbuds, the curtains over the company's latest product lineup have finally been lifted. Brimming with state-of-the-art features, Tranya Nova is the earbud community's current cult-classic obsession and is making rounds all over the internet.
As such, one cannot help but wonder what exactly Tranya Nova has to offer, so much so, that it has sound enthusiasts reeling over it. In an attempt to answer this, in this article, we provide an in-depth look at this earbud's features and reason why Tranya's Nova should be your next earbud!
About Tranya Nova
Superior Sound Quality
The very first question that sound enthusiasts ask about any latest earbud is how clear is its sound quality. Of course, the final sound quality of any earbud is a complex combination of its entire body design, driver mechanics, and the overall quality of the installed audio components. However, what makes all this complex processing possible ultimately comes down to the earbud's processor.
Tranya's Nova is powered by Qualcomm's cutting-edge QCC3072 chip and is equipped with aptX technology. The QCC3072 chip enables Tranya's Nova to process and deliver superior audio encompassing the entire human frequency spectrum and the aptX technology allows users to enjoy high-quality, low-latency audio streaming as well as savor every note and beat with exceptional precision. Moreover, the exclusive SonicMax technology in the Nova earbud enables it to improve the sound quality and dynamic range as well as details of any audio sound several notches up by using special algorithms and processing techniques.
The end-user gets to experience this by enjoying even higher, richer, and clearer quality music, movies, games, and other audio content.
6 Mic System
Furthermore, the array of 3 microphones on each Tranya Nova earbud allows for a state-of-the-art noise cancellation capability that, in turn, allows for unparalleled speech intelligibility, even when you are on the go!
Normally, you will find noise-cancelling earbuds that only incorporate 1 mic on each earbud. Tranya's Nova, on the other hand, uses 3 distinct microphones to achieve the next level of crystal-clear call quality and allow for serene conversation between people even when they are in a noisy environment.
What's more? The 6 microphones on Tranya's Nova utilize the latest cVc 8.0 ENC tech and work in harmony to ensure maximum efficiency and as little impact as possible on the earbud's battery!
Now you see why Tranya's Nova should be your next earbud?
Battery Timing
This is where Tranya's Nova outshines its competitors.
Normally, many earbuds promise long-lasting battery times provided you keep most of their features disabled or turned off. However, even with every feature on, where other earbuds barely last an hour, Tranya's Nova delivers up to 9 hours of listening time, and that, too, on a single charge!
And if you happen to carry the Nova earbud charging case, the real game starts then. Where other earbuds boast to deliver a 24-hour long battery life with an earbud charging case, Tranya's Nova stands out from the crowd by delivering a whopping 36 hours of listening time!
However, given its long-lasting battery life, you may now be wondering about the time it takes to fully charge Tranya Nova. As such, we have good news for you.
With just 10 minutes of Tranya's Nova earbud charge, you can get 2 hours of continuous listening time! Isn't it cool, like super cool?
Wireless Charging
Yes, cords have many benefits indeed. However, we are currently living in an era where electronic devices are quickly transitioning and adopting the wireless communication infrastructure protocol in order to be maximum eco-friendly and have minimum impact on the planet.
Therefore, Tranya Nova, while ensuring to give the best user experience, also cares for the natural environment. Embracing the future of charging, Tranya's Nova offers a new level of convenience and ease by providing a fast, reliable, and hassle-free device charging experience.
Bluetooth 5.3 Support
Continuing with the flow, Tranya's Nova also incorporates the latest Bluetooth technology into its highly adorable miniature body design.
Released in July 2023, Bluetooth 5.3 is currently the industry standard of wireless communication between electronic devices that provides improved reliability and power efficiency as well as a seamless wireless user experience.
Because Tranya's Nova supports Bluetooth 5.3, you get access to all the features this latest Bluetooth version has to offer, such as Periodic Advertising Enhancement for efficient processing of redundant data, Encryption Key Size Control for secure connection and enhanced security, and Channel Classification to avoid using channels that are prone to interference or noise.
Low Latency
Before we begin, let us first see why low latency is important in modern earbuds. Latency refers to the time delay between the source sound and the earbuds. It is measured in milliseconds (ms) and affects how the audio syncs in with the video, online call, or the game you are playing while wearing the earbuds.
Therefore, low latency is important in modern earbuds as it prevents video and audio components of a video from getting out of sync with each other. This dyssynchronization in videos usually happens whenever there is high latency.
And how does high latency impact you? Let's consider this as an example: assume you playing an online game and you notice that you hear your character's footsteps 2-3 seconds after they take their steps. What's happening here is that the audio and video components of the online video game are out of sync due to high latency.
As such, low latency helps deal with this issue and ensures that the in-game footsteps sound is heard as soon as the user moves with their character in the game, thus achieving perfect synchronization. Since latency cannot be completely removed, it can be minimized to the max; and Tranya's Nova boasts an extremely low latency of 40 milliseconds!
Transparency Mode
Up until now, we have had earbuds that implemented noise cancellation. While it had been a bliss for the majority, noise cancellation has not been without its flaws. Primarily because, while it tunes in the users to enjoy their music to the max and fully engross themselves in their fantasy worlds, it also disconnects them from their surroundings at the same time.
This is where Tranya's Nova comes to the rescue! In that, Tranya's Nova offers a seamless transition between the two, without you ever having the need to constantly take off your earbuds and put them back on again and again.
With just a simple touch of your fingertip, you can enable the Transparency mode on your Nova earbuds and get to enjoy the music all the while staying vigilant of your surroundings. Want to tune fully tune in to the music again? Simply press and hold the touch area to disable the transparency mode and forget the world!
Consequently, all these factors discussed so far make it very clear why Tranya's Nova should be your next earbuds!
Resistance
For those who don't know, Tranya's Nova earbud is built keeping maximum user experience in mind.
Whether you're running, cycling, or simply jogging in the great outdoors, its super-efficient streamlined body shape ensures every beat, every note, and every word remains crystal clear and undisturbed. As such, the constant buzzing sound of the wind is now a thing of the past since these earbuds block out the majority of wind noise and help you keep connected with the world.
What's more? Besides wind resistance, Tranya's Nova earbuds are also water resistant. These highly durable earbuds by Tranya have an IPX5 water rating which, in turn, gives you the confidence to dive into the outside rain with earbuds on and get to listen to your favorite rain-time music without any fear.
Multi-Device Connectivity
Lastly, when we talk about earbuds, many people instantly picture them connected to mobile devices. Although this is true, it's not the complete picture. While earbuds are indeed mostly connected to mobile devices and are seen as portable companions, earbuds also have many other uses.
One such is connecting them with your other devices such as TV screens, Desktop PCs, laptops, and even Tablets. However, although all earbuds support connections with these devices, not all support simultaneous connections.
This is where Tranya's Nova takes the lead. It effortlessly switches between, for instance, the music playing on your phone and the online Zoom call you received on your laptop! Hence, Tranya's Nova frees you from the hassle of manually switching from one device to the next every time a need arises.
Price Tag
Now, given the range of all the mouthwatering innovative features that Tranya's Nova has to offer, you may think its price would easily be anywhere above $200
Fortunately, that's not the case. Cheers!
Bearing a humble price tag of only $99.99, Tanya Nova does not put an additional burden on your already limited expenses. Because of this economical cost, Tranya Nova is currently the hot cake of all Tranya earbuds.
Therefore, before they run out of stock, hurry up and place your Tranya Nova order now! 
To Wrap it Up
As seen above, Tranya's Nova offers a myriad of premium features that come packed with an economical price tag. As of writing, it sits at a remarkable score of 5 out of 5; based on all the user ratings on its official website. And in case you are wondering, YES, this user score alone justifies why Tranya's Nova should be your next earbuds!
Do you own a Nova earbud? If yes, then what do you think of it? Share your thoughts with us and let us know in the comments below!